The doctors prepared my parents for my recovery and suggested they attend classes for parents of the brain impaired. "He will be nothing more than a vegetable, unable to walk or talk." Mother and Dad continued to pray.
Twenty-eight days after the injury I came out of the coma. "He's talking." The news circled throughout the hospital. My room quickly filled with doctors in white coats, curious, concerned, questioning me.
"Say, Rich, how do you spell Cherry Street?"
They were amazed that I could talk! But spell correctly? That was unbelievable! Medical science could not explain why I had such a recovery. Again, a time to celebrate.
When I entered the Therapeutic Treatment Center at Chico Community Hospital, the sincere sympathy of the nurses incensed me: "Rich, you must accept what is. You must learn to adjust to accept your condition, your limitations." What? Live like this? Oh, no! Not me! Not on your life! Their words angered and challenged me, spurring me to activity. I worked diligently during (countless hours of) therapy. Determined with the help of Almighty God to walk.

In the beginning, I could not stand without assistance. I tottered and hobbled, staggering around my room without the nurses' knowledge. In three or four weeks I could walk alone.
Two months after the accident, the doctors wanted to remove the "halo" (a device screwed into the head, with a circle that goes around the head to prevent movement of the vertebrae) but they were concerned because one of the vertebrae was out of alignment. So they scheduled an operation on my neck.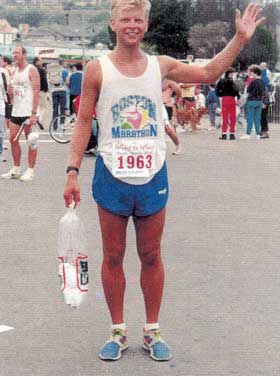 The Boston Marathon is one of the toughest races in the world. Few 20-year-olds qualify. None who'd been paralyzed the year before.
The night before the surgery I attended a prayer meeting and was anointed with oil and baptized in the Holy Spirit. I actually felt a surge of power through my neck during prayer. I just knew God touched me. The next morning when the doctors X-rayed, they discovered the vertebrae were in position. I was elated to have that operation canceled and breathed a prayer of gratitude to God. I did not deserve this mercy, this great love of a forgiving God. But He had bestowed it on me!
Who was this God? I wanted to know more about Him, to know Him for myself. Why had He spared me? It would take time to come to a fuller understanding; time to give my life to Him. But God was real! Real!
One year after the accident the doctors allowed me to run again. It was like setting fire to a furnace. It seems like I haven't taken my running shoes off since that time.
I competed in a triathlon four months later while the nurses from the hospital cheered from the sidelines. Since that time I have competed in triathlons, marathons, 1OKs and sometimes long distance bike races. In the spring of 1989 I placed eleventh overall in the Chico Bidwell Classic Marathon, and was first in my age division, with a time of 2.59 which qualified for the Boston Marathon.

One of Rich's watercolor paintings.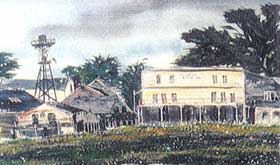 As I raced the last few yards down Boston's Boylston Street, beyond exhaustion, drenched, each step a creation of agony, I barely heard the sounds that enveloped me. TV cameras hovered like whining hummingbirds overhead; video and still cameras clicked from the sidelines.
I knew this was a time to remember.
I savored the moments, drinking in rays of the penetrating sun for which I had prayed. I wanted to etch this moment into my mind forever. The 8,000 runners surrounded me like teeming molten lava pouring through the streets of this historic New England city that claimed the ship Columbus sailed in and the statue of Paul Revere. Each runner stretched beyond endurance trying to make the finish line.
After I had nearly collapsed across the finish line I was amazed to discover that amid the competition of Olympic and professional runners. I had finished in the top twenty percent. Receiving that medal that was placed around my neck, I sent a prayer of thanks heavenward. Tears ran down my face for quite awhile. Is there anything You can't do, my Father in heaven?
What next? The Olympics? A big dream, yes. But because of the grace of Jesus Christ, my Lord, I have hit the wall before and survived, reaching impossible dreams.

If you would like to print Rich's story, click here for the Adobe Acrobat version.
If Rich's story has meant something to you, he would love to hear from you. Write to him at:

PO Box 1754
Chico, California
95927, USA
Currrentyl, Rich is completing his BA in graphic arts with a minor in business. In addition, he owns a large business, Home Team Pool & Spa Co., and is an accomplished artist, displaying his paintings in and around California - many pieces published with signed prints. He has spent time with Thomas Kinkade, discussing art and sharring his story to Kinkade's family and friends.
He attends Pleasant Valley Assembly of God church in Chico, and speaks at FGBMFI functions. This month he will be running in another race in Los Angeles.