It happened on April 4, 1984, while I was returning from a drinking party near Chico State University, in Chico, California. I was nineteen years old and life was a party! I had rebelled against the God of my parents and against the beliefs that had been instilled by a childhood of studying the Bible. That stuff was for old fogies! Not for me! Dad had tried to reason with me many times but I refused to listen.
I slammed on the brakes of my soft-top CJ5 to avoid hitting a dog. The jeep rolled two times then landed on me and another passenger, a buddy. The back of my neck hit the curb, and a wrench pierced my side, leaving a deep hole. My skull took quite a beating from the impact leaving a crack from my ear to the top of my head. My pelvis was broken in four places. I had turned blue when a bystander, who had heard the crash and rushed to the scene from his comfortable house, revived me with artificial resuscitation.
The shrill ringing of the phone reached Mother and Dad at one-thirty in the morning. "There's been an accident. Rich is in the hospital, in a coma and not expected to live." Fighting panic, they raced to the hospital and inadvertently walked into the emergency room to see their son comatose, body broken and bleeding. The wrench had left an ugly gaping hole, my head was bloodied and misshapen, my ear hanging by a thread of skin.

My parents were asked to leave, but Dad insisted, "All we want to do is pray." He reached out his hand toward me and said, "Rich, we're praying for you." Funny! Dad says my head swung over when he said that. Anyway, after Dad prayed the nurses ushered my parents into the doctors' lounge to wait.
The attending neurosurgeon was gentle as he spoke to my parents, "The X-rays show no spinal chord in the injured area, which indicates that it is severed there. His neck is broken in four places and the vertebrae are separated. He could slip away at any moment. We are doing our best, but I doubt if we can save him. I'm sorry. But if he does survive, he will never function as a normal person."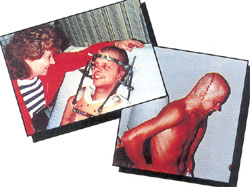 Temporarily shaken, my father's strong faith would hold him steadfast throughout the ordeal. A family friend arrived and began to pray. Pastor Gaylord Enns arrived. Members of my family came and the group began a prayer vigil. Several churches had been alerted and a chain of prayer began.


With my life hanging in precarious balance, my condition was monitored but the doctors did not begin treatment. Toward morning the neurosurgeon spoke to my parents, "These X-rays are beginning to look better; whatever it is that you're doing, keep it up.

Miraculously I survived the night. At about eight o'clock the next morning, I was moved to the trauma unit for treatment. The night watch of prayer warriors, greatly encouraged, began to leave. By that time churches throughout California and Washington State had been alerted and prayer continued. Those prayers sustained my parents.
My life hung on a thread during the days that followed. Alarm lights flashed as doctors and nurses battled for my survival. I stopped breathing three different times. Then placed on a breathing machine and developed pneumonia, a major crisis for one in my condition. At one point a high fever developed and the doctors thought it was the end. Time and time again God intervened.
The following Sunday morning Dad attended church where the congregation had been praying. An elderly woman greeted him and quoted Psalm 117, "He shall live and not die." Greatly comforted Dad accepted the words. Later that night he would need that scripture.
That evening the doctors informed my parents that a blood clot had formed on my brain and was expanding. Without brain surgery I would surely die but I was not expected to survive an operation in my condition. Again I surprised the doctors when I did live.